There are more than 2 billion mobile phone users. In the recent years consumer concerns about the consequences of these radiations on human health have risen considerably. Some users believe that these electromagnetic radiations are harmful to human health. According to WHO (World Health Organization) health effects, such as headaches are not likely caused by cell phone radiations. Nevertheless some European countries including Sweden, Germany, France and Austria have recommended their citizens to minimize exposure to cell phone radiation.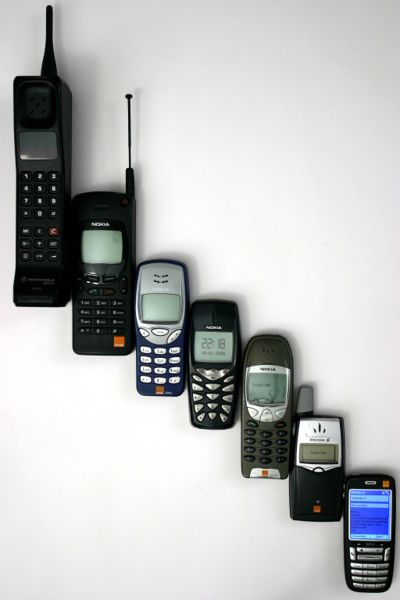 Electromagnetic and Radio Waves
Electromagnetic (EM) Waves that have electric and magnetic properties and can propagate through vacuum or matter. EM waves are divided into several classes or types on the basis of their frequencies. Visible light from sun is a class of electromagnetic waves. Microwaves are also a class of EM having wavelength between 1mm to 1m. Radio waves are a type of EM waves having frequency lower than microwaves.

Radiation absorption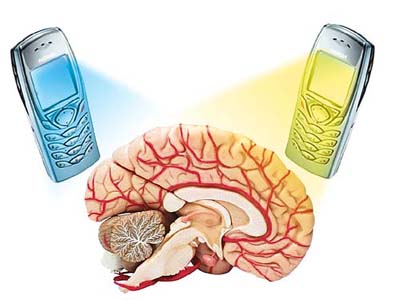 Part of the radio waves emitted by a mobile telephone handset are absorbed by the human head. The radio waves emitted by a GSM handset, can have a peak power of 2 watts, and a US analogue phone had a maximum transmit power of 3.6 watts. Other digital mobile technologies, such as
CDMA 2000
and
D-AMPS
, use lower output power, typically below 1 watt. The maximum power output from a mobile phone is regulated by the mobile phone standard it is following and by the regulatory agencies in each country. In most systems the cellphone and the
base station
check reception quality and signal strength and the power level is increased or decreased automatically, within a certain span, to accommodate for different situations such as inside or outside of buildings and vehicles. The rate at which radiation is absorbed by the human body is measured by the Specific Absorption Rate (
SAR
), and its maximum levels for modern handsets have been set by governmental regulating agencies in many countries. In the USA, the
FCC
has set a SAR limit of 1.6 W/kg, averaged over a volume of 1 gram of tissue, for the head. In Europe, the limit is 2 W/kg, averaged over a volume of 10 grams of tissue. SAR values are heavily dependent on the size of the averaging volume. Without information about the averaging volume used comparisons between different measurements can not be made. Thus, the European 10-gram ratings should be compared among themselves, and the American 1-gram ratings should only be compared among themselves. SAR data for specific mobile phones, along with other useful information, can be found directly on manufacturers' websites, as well as on third party web sites.
List of some European mobile phone SAR levels
| | |
| --- | --- |
| Manufacturer and Model | Extended/retracted SAR level |
| 1. Nokia 2110 | 0.44/0.25 |
| 2. Nokia 5110 | 0.37 |
| 3. Nokia 6110 | 0.29 |
| 4. Bosch World 718 | 0.28/0.33 |
| 5. Ericsson GA628 | 0.26 |
| 6. Hagenuk Global Handy | 0.03 |
| 7. Motorola Star V3688 | 0.02 |
| 8. Motorola Star TAC 70 | 0.02/0.01 |
List of top 10 highest radiation mobile phones in the US - SAR
| | |
| --- | --- |
| Manufacturer and Model | SAR Level |
| 1. Ericsson T28 World | 1.49 |
| 2. Nokia Digital 5160 | 1.45 |
| 3. Nokia 5170 | 1.45 |
| 4. Denso TP 2200 | 1.44 |
| 5. Qualcomm QCP-1960 | 1.41 |
| 6. Sanyo SCP-4500 | 1.4 |
| 7. Sony CMB-1200, 2200, 3200 | 1.3906 |
| 8. Nokia 8860 | 1.39 |
| 9a. Motorola StarTAC 7867 | 1.38 |
| 9b. Motorola ST7767D | 1.38 |
| 9c. Motorola Talkabout T8167 | 1.38 |
| 9d. Motorola Timeport P8167 | 1.38 |
| 10. Neopoint NP-1000 | 1.38 |
List of 10 lowest radiation mobile phones in the US - SAR
| | |
| --- | --- |
| Manufacturer and Model * | SAR Level |
| 1. Motorola StarTAC 7860 | 0.24 |
| 2. Qualcomm pdQ-1900 | 0.2634 |
| 3. Mitsubishi Trium Galaxy G-130 | 0.35 |
| 4. Motorola TalkAbout 2297 | 0.35 |
| 5a. Motorola ST7797 | 0.39 |
| 5b. Motorola T8097 | 0.39 |
| 5c. Motorola P8097 | 0.39 |
| 6. Motorola StarTAC 7790i | 0.42 |
| 7. Motorola i1000plus | 0.43 |
| 8a. Motorola G520 | 0.457 |
| 8b. Motorola M3682 | 0.457 |
| 9a. Ericsson KF-688 | 0.477 |
| 9b. Ericsson DF-688 | 0.477 |
| 10. Motorola M3097 | 0.53 |
(Source of both tables above: official manufacturers SAR data sent to FCC, and then collated by DoMode.com and CNET.com. These figures may not be 100% accurate and Global Change Ltd cannot take responsibility for them.)
The Nokia 3210 has a rather high SAR. SAR of 25 new cell-phone models:
Manufacturer: Model: SAR: (*)
Motorola Star Tac 130 (A) 0.10 +
Motorola Star Tac 130 (B) 0.38 +
Nokia 8810 0.22 --
Sony CMD-C1 0.55 --
Ericsson I8888 World 0.60 +
Ericsson S868 0.77 +
Nokia 6110 0.87 --
Ericsson A1018s 0.88 +
Ericsson SH888 0.90 +
Trium Galaxy (A) 0.93 ++
Trium Galaxy (B) 1.16 ++
Motorola cd930 0.94 +
Panasonic EB-G520 0.95 --
Alcatel One Touch max (A) 0.97 -
Alcatel One Touch max (B) 1.29 -
Ericsson T18s 0.97 +
Nokia 6150 0.98 --
Panasonic EB-GD70 0.99 --
Philips Savy 1.11 -
Bosch GSM 909 1.13 -
Nokia 3210 1.14 --
Motorola cd920 1.17 +
Nokia 3110 1.24 --
Philips Genie 1800 (A) 1.26 +
Philips Genie 1800 (B) 1.41 +
Siemens C25 1.33 --
Philips Genie 900 (A) 1.52 +
Philips Genie 900 (B) 2.67 +
Motorola v3688 1.58 +
Bosch GSM 908 1.59 -
SAR in W/kg
(A) = with extended antenna (B) = antenna not extended
(*) = Warnings about possible radiation hazards in the user manual:
-- = none - = bad + = good ++ = very good